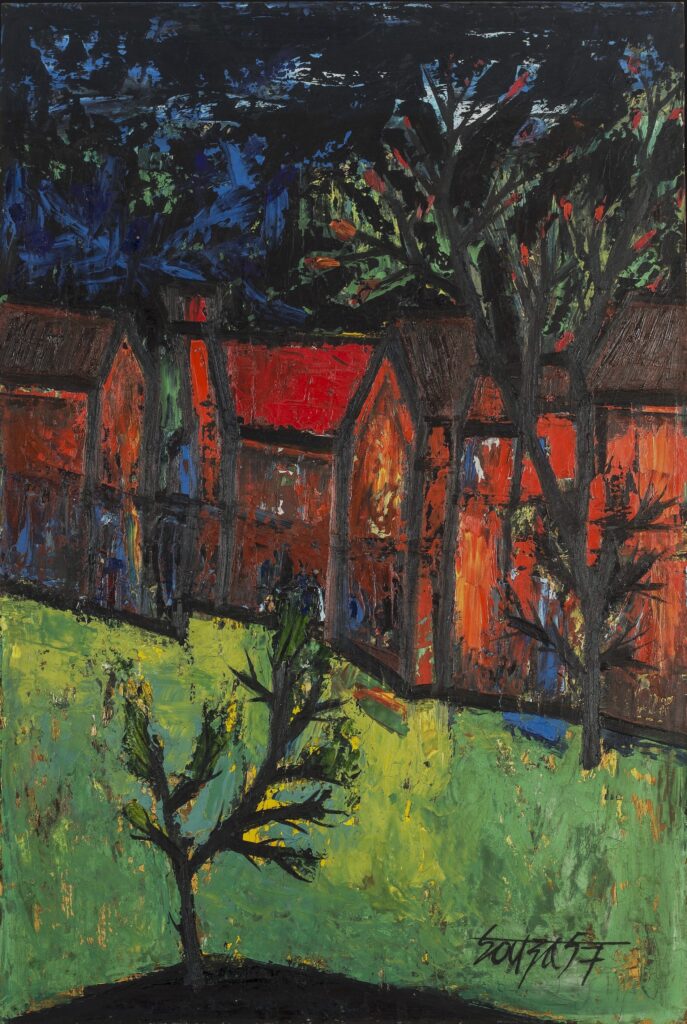 Featured in ARTIANA's upcoming online auction on December 6-10, 2018, is this striking painting by artist Francis Newton Souza – 'Red Houses with Front Garden'. This work of the artist had been exhibited and published in the South Asian Modern Masters of Grosvenor Gallery in London.
Francis Newton Souza is arguably one of the greatest and most celebrated painters in the history of Indian contemporary art. Versatile and spontaneous over the command of his pen and brush, his facility with his craft shows in the diversity of his works. From landscapes, nudes, still-life and to his widely popular strongly drawn heads, Souza spanned the entire gamut.
Painted in 1957, the picture is part of the culmination of both technique and subject in the artist's prime decade. "Red Houses with Front Garden" depicts an English suburban landscape in Souza's signature strong and expressive style. The houses, situated in a grassy space, are rendered in simple rectilinear structures punctuated by gnarled trees. The trees set in the foreground give the picture a sense of depth. Unlike other artists, Souza's landscape is not figurative or life-like, instead, they are vehicles of his mood and expression. Inspired by the ecclesiastical architecture of the Roman Catholic churches from his native Goa, the palette of the work was indicative of Souza's interest in stained-glass windows illustrated with his use of luminous hues framed by dark outlines. Like his other landscapes, the sky appears stormy and turbulent lending a disconcerting sense in the otherwise peaceful scenario. This can be attributed to Souza's angular brush strokes.
Auction Catalogue – South Asian Art 'Classical, Modern and Contemporary' – December 6-10, 2018