Featured originally on barnebys.co.uk, June 23, 2020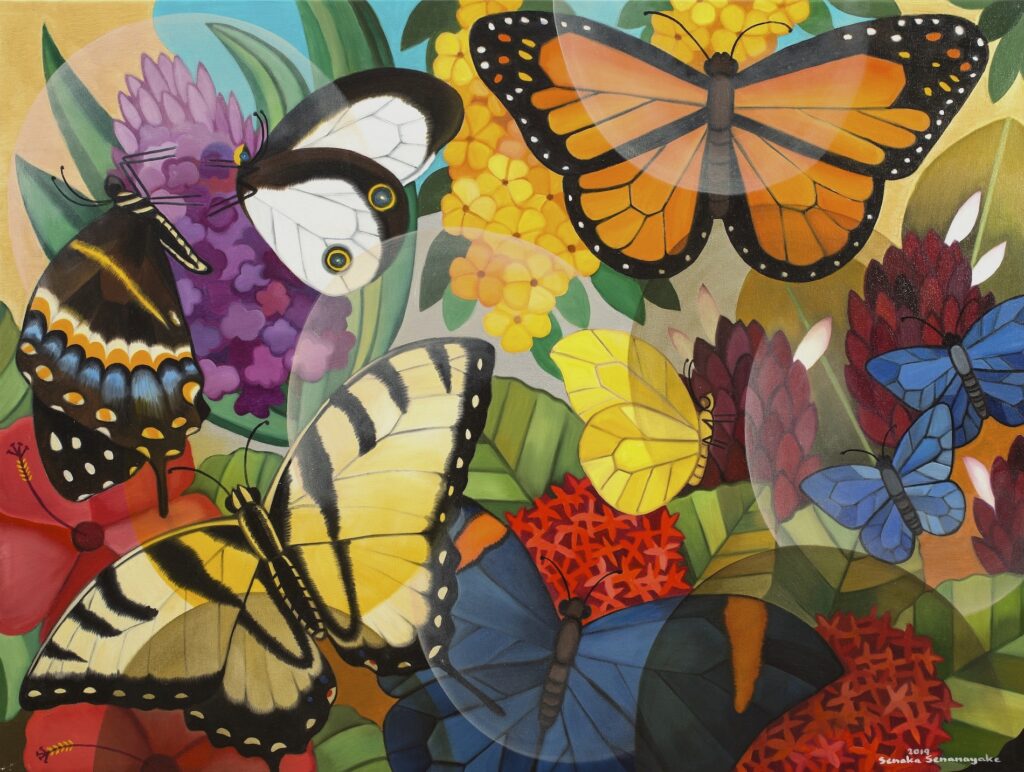 Lush rainforests populated with tropical birds, colourful butterflies and Hindu and Buddhist deities tantalise the viewer in Senaka Senanayake's latest exhibition and sale, 'The Enchanted Forest'.
Hosted by Artiana in Dubai, the online exhibition Senaka Senanayake: The Enchanted Forest marks Artiana's inaugural sale with the beloved artist and features some of Senanayake's most recent paintings. The sale runs for the month of June, and pieces include bold botanic imagery, fields of eye-catching butterflies, and clusters of cheery macaws. Senanayake captures the beauty of the tropical rainforest on his canvases, allowing viewers to bring a piece of nature into their own homes.
Born in Sri Lanka in 1951, Senaka Senenayake quickly became known as a child prodigy for his artistic prowess and had his first international one-man show in New York at the age of the ten. He later studied at Yale, gaining his degree in Art and Architecture before moving back to Sri Lanka. Currently residing in Colombo, he continues to use the flora and fauna of his home country as inspiration for his work, fostering appreciation for his surroundings and making him one of the best-known artists of the region.
Environmentalism plays a huge part in Senenayake's work, and his love and respect for nature shines through his paintings. The Sri Lankan rainforests are threatened by intense deforestation, and industries like tea production are particularly destructive in their pursuit of farmable land for plantations. Native animals disappear as their habitats are destroyed, and entire ecosystems are in danger of collapse.
Senanayake utilises painting as a form of advocacy, depicting the beauty of these threatened landscapes and creating an awareness of their precarious situation. He searches for harmony between people and the earth, encouraging viewers to connect to and coexist with the natural environments around them. The diversity and colour in Senanayake's paintings speak to the vibrancy of the forests, and remind us of how precious they truly are.
However, Senanayake focuses on the current vitality of the rainforests rather than contemplating their destruction. In paintings like Winged Wonders, the canvas comes alive with butterflies flitting around a variety of flowers. He captures the multitudes of species around him in a few bold brushstrokes and celebrates the bright and colourful life of the 'Enchanted Forest.'
Religious imagery also appears frequently in Senanayake's works, such as depictions of Ganesha, the elephant-headed deity known as the patron of the arts, remover of obstacles and the deva of wisdom. Transparent bubbles appear around animals to represent the eternal circle of life as conceived by Buddhists, while the lotus flower signifies enlightenment and rebirth.
Spirituality and nature exist side by side in Senenayake's idyllic scenes, depicting the splendor of the outdoors while reminding us that humans are just one part of a larger ecosystem. It is easy to get lost in his paintings, appreciating the colour and masterful brushwork while feeling the very same joy and serenity that one experiences while in nature.
Artiana's sale ends 30 June at 9pm UAE time, with all bidding occurring virtually. The full catalogue is available online to browse, and prior registration is required to place a bid.