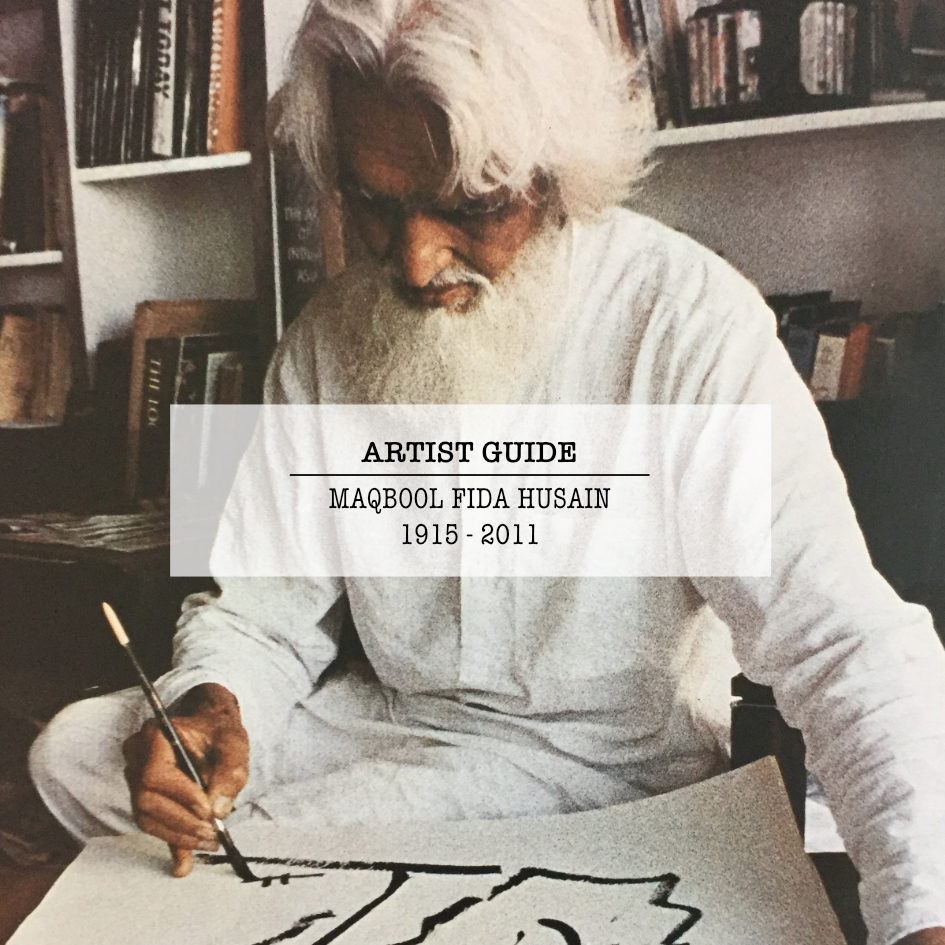 M.F. Husain, one of the great artists that came from India, was born on September 17, 1915. Known as the painter of the people, he is celebrated for the exceptional yet sometimes controversial works that deeply embody the Indian aesthetics and made him popular and relatable to people from all walks of life. His themes too are Indian; from the great epics (the Mahabharata and the Ramayana) to Gandhi, Mother Teresa, the British Raj, to the motifs of Indian urban and rural life. His memorable works reflected the life of an artist that is as vibrant and spirited as his canvases.
Through his career, he enjoyed great popularity and reverence that earned him the moniker 'The Barefoot Picasso of Indian Art' attributed to his style which reflected influence from Pablo Picasso and his atypical characteristic of foregoing footwear no matter the occasion or the establishment.
As a tribute to the master on his birthday, here are 10 things to know more about M.F. Husain:
1. His exact birthday is unknown but as a general belief, he was born on the 17th of September 1915; a date that he thought of when he applied for a passport on 1950 for the first time without having proof of his birth date.

2. He started his art career painting cinema hoardings for six annas (1/16th of a rupee) each in 1930. Working on these huge hoardings helped him use space effectively and to paint quickly and boldly on large surfaces. He also took up designing and painting nursery furniture and toys to make a living before becoming a full-time artist.

3. He sold his first painting for Rs 10 in his first show in 1934. To date, his works fetch top dollars; his most priced work sold for USD 1.6 million at an auction in 2008.

4. An extremely prolific artist, his works are estimated to be in the thousands nearing to 40,000. It is said that at one point in his career, he was producing as much as 6 artworks per day.

5. He executed a mural painting titled 'Mahabali' (The Great Sacrifice) on the walls of the Permanent Mission of India to the United Nations in New York freehand. The 21-meter by 6-meter 'floor to wall' mural speaks of human suffering and the environment.

6. He walked around everywhere carrying a long oversized paintbrush that had become a part of his legend.

7. One of his favorite muses was Bollywood superstar Madhuri Dixit; his adoration of the actress resulted in many works inspired by her and her films. He would later direct the film 'Gaja Gamini' featuring the actress in 2000. Rumor has it that he watched one of her film a total of 67 times!

8. Husain's diverse influences both in inspiration and style acknowledged his respect and openness to ancient and new styles of painting. He used symbolization to pay homage to some of the western masters by incorporating Salvador Dali's signature mustache, Cezanne's apple, and Van Gogh's chair among others in his works.

9. Aside from being well-respected and sought after, he was also multi-awarded. He was conferred the Padma Shri (1966), Padma Bhushan (1973), and Padma Vibhushan (1991) by the Government of India along with several honorary doctorates from several distinguished universities.

10. Although considered one of the greatest artists in the history of Indian art, he remained in a self-imposed exile from 2006 until his death on June 2011. He accepted Qatari citizenship in 2010.
To know more about this great artist; visit http://mf-husain.com/
Text Reference:
2 3 4 Sudha Tilak, The Private Life of a people's painter, The Hindu – Business Line, December 15, 2017
5 8 9 Najma Husain, Husain's Art, Pragati Offset Ltd., Hyderabad, 2016