A collection of Company School paintings will be offered as part of ARTIANA's upcoming online auction on December 6-10, 2018. Showcasing the miniature tradition, the works, marked by muted colors, recorded everyday rituals of local people in British India between the late 1700s and 1800s. 
Southern Indian artists in the 18th century were among the first to adapt their styles and subject matters for their new patrons from the French and English East India Companies. Hindu deities and religious scenes had been the traditional decorations on the walls of temples throughout the south, so it was a simple matter for the artists to produce sets of deities and festivals on paper to inform westerners of the many unfamiliar aspects of south Indian Hinduism. These paintings were painted in brilliant colors against an uncolored ground. It was again a relatively easy further step for these artists also to produce sets of occupations, castes, ascetics, and festivals when British tastes changed to want permanent records of local life. The figures were normally in the early period painted in pairs, a man and his wife, originally standing on a simply painted ground and with a blue sky background behind them, sometimes with a narrow strip of tangled clouds at the top. Around 1800 more details of landscapes and more naturalistic clouds were added and the clouds began to cover the whole sky in jagged alternations of blue and grey.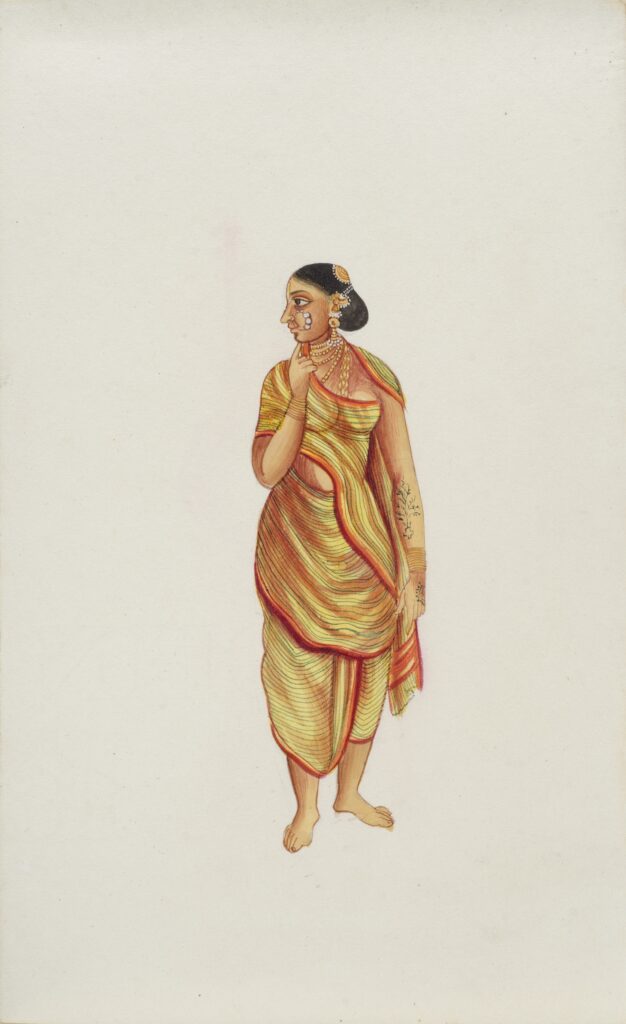 Men from Tanjore of the muchi or leather-workers caste are thought to have been the artists of these sets, although inscriptions of some of the albums and paintings indicate that they must have moved to other towns, particularly Madras, in search of employment, where they continued to paint their traditional subjects. Other centers where they are known to have painted included Vellore and Trichinopoly. The artists based in Trichinopoly specialized in painting on small sheets of mica that were mounted on paper guards and bound into albums. By the mid-19th century the artists had often abandoned painting couples, a man and his wife, and instead concentrated on single figures, as found here in this set.
The figures in the set are well drawn, lively and colorful, with good modeling of forms and facial features. Without inscriptions, however, some of the women especially are difficult to identify, but most are normally based on earlier identified figures. Many of the single women seem modeled on the 'wife' half of the earlier couples. The women normally wear the elaborate jewelry of the south, with various heavy earrings, hairpins, noserings, necklaces, bracelets, and anklets, not detailed here.
EXPERT: J.P. Losty
Auction Catalogue – South Asian Art 'Classical, Modern and Contemporary'- December 6-10, 2018