Artiana Auction House will host its South Asian Art online auction on 6- 10 December 2018. Featuring a total of 50 lots, the sale boasts work from modern masters and leading contemporary artists from the Indian subcontinent. Marquee lots to go under the gavel at this auction will be exhibited for viewing at their Downtown Dubai gallery starting December 1st until the 6th by appointment. This includes Sayed Haider Raza's seminal work,  'Prakriti' (1998) estimated at $150,000 – $250,000.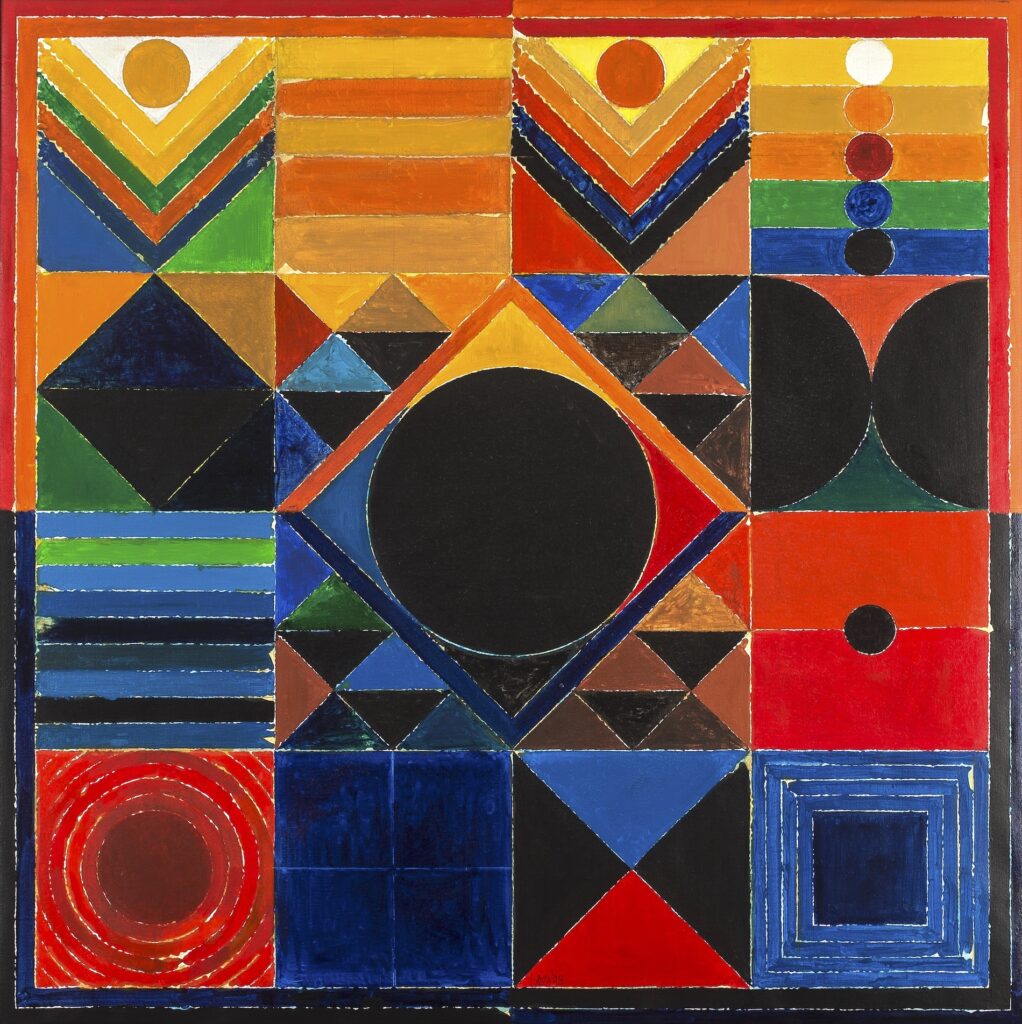 Throughout his career, Sayed Haider Raza has been influenced by the mystical power of nature. Drawn by his Indian heritage and driven by his desire for the elimination of the inessentials he began extensive pictorial research of the elements, the potency of colors, and symbols which soon become the formal elements of his paintings. Preoccupied with the use of these elements, it became the center of Raza's artistic vocabulary and true raison d'être – the purpose of the existence of his painting. He went on to perfect this symbolism throughout the 1980-1990s.
Maintaining harmony in the use of simple geometry and pure color, he adopted a symbolic language to represent different aspects of the natural world. The current work is delineated in sections, with each of them containing an image, usually in geometric shape suggesting the essence of the element. He uses primary colors to highlight the elements; fire, water, wind, earth and the sun. Here he utilizes vibrant red, electric blue, black, ochres and white colors which are also significant colors to the Indian tradition.
S. H. Raza exploits shapes, lines, and diagonals to illustrate the union of forces in the universe not merely from form and color but also from their arrangement on the canvas. His works express a highly simplified perception of the powerful forces inherent in nature. "At the epicenter of many of these paintings is a dark, blank void. Emanating from this inner core the forms and shapes are like veins, energizing and giving life to the painting. The viewer begins a visual journey outwards from this center, a journey through the elements of life itself. Raza explains that at the heart of this unique visual language lie the five key symbols of fire and water, earth, wind, and sky, brought together within a geometric framework that also contains signifiers of fertility and fruitfulness, all together underlining the inevitable interrelationship of the key components of the universe and the interconnections of our humble lives within it" (S. H. Raza, Saffronart and Berkeley Square Gallery exhibition catalogue, 2005, not paginated).
Auction Catalogue – South Asian Art 'Classical, Modern and Contemporary – December 6-10, 2018