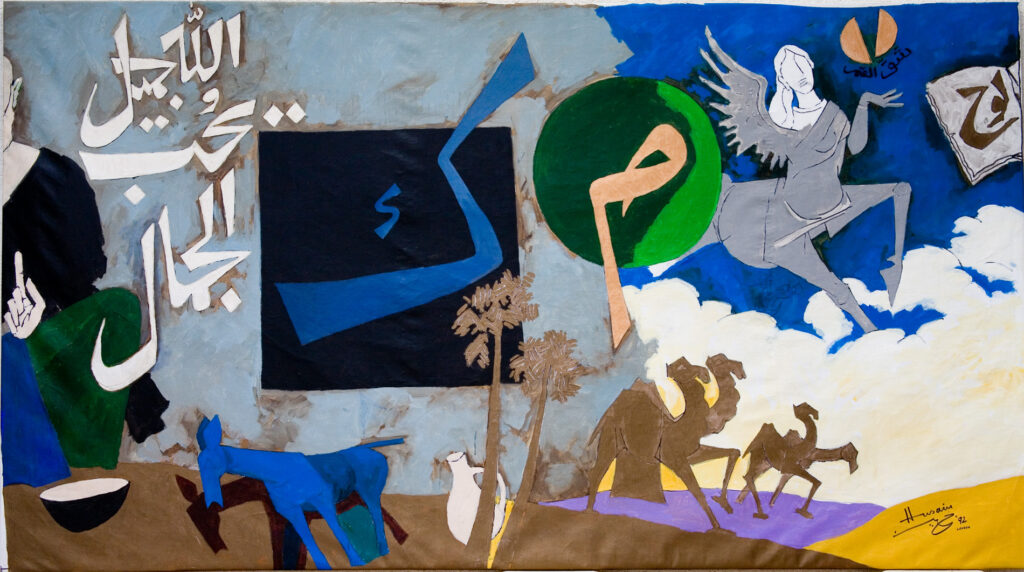 ARTIANA's upcoming online auction of Classical, Modern and Contemporary South Asian Art on March 23-27, 2017 highlights this distinct work of Maqbool Fida Husain. This painting is the most valuable lot in the upcoming sale, both in terms of price and history behind the artwork. 
'Theorama' is a ten-panel series that was influenced by Husain's past preoccupations with theosophy and his experiences as a billboard painter. Composed in the early 90s, Theorama tributes ten different faiths — highlighting what Husain sees as the finer aspects in each; these are strung together in the series to symbolize a sense of unity or a common thread. 'Islam' is Husain's masterly depiction of the Muslim faith.
To the left is a Sufi saint with his finger of 'Kalema e Shahadah' raised. The black and majestic cube of Kaabah, inscribed with the Arabic 'Kaaf', is positioned at the heart of the image, emphasizing its prominence in no uncertain terms. A circle beside the Kaabah represents the dome of The Prophet's mosque in Madinah and is inscribed with the alphabet 'Meem'. 'Al-buraq', the lightning horse, gallops across the sky to the right while the 'Al-Shaqqul Qamar', the splitting moon — an Islamic symbol of the scientific temper — watches over. 'Al-Loh-al-Mehfooz', the book of Judgement Day also sits prominently to the right.
This simple yet substantial homage to Islam is brought about through a keen use of color and line. These, along with tasteful use of religious motifs and symbolism, assembled together with intimacy and personal reverence, lends this painting the distinctness for which it is known.
Auction Catalogue-South Asian Art 'Classical, Modern and Contemporary'-March 23-27, 2017