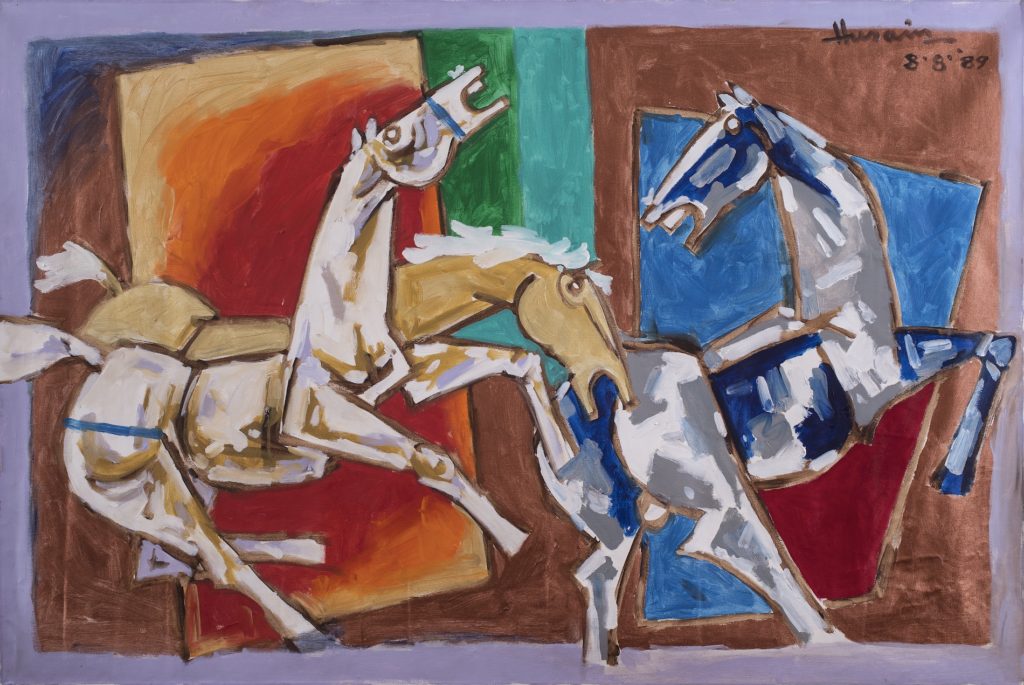 "My horses are classical because I see them as ageless and immortal. They draw chariots in the great epics, they stand proudly in the poorest stables, they are embodiments of strength like the dragon of China. I don't show their hooves because there's no need to. My eyes stop at the color, I don't have to paint the details because the details are superfluous. Art is not in the painting, art is in the artist. He relives life through his painting." – M.F. Husain
M.F. Husain encountered and portrayed the equine figure throughout his artistic career; this fascination later took him to various continents and cultures. He acknowledged the influence of terracotta horses from the Qin dynasty, the hundreds of galloping horse paintings he studied during his travels to China, along with the equine sculptures of the Italian sculptor Marino Marini (1901- 1980) in his works, among others. Yet he considers the tazias (effigies) of Imam Husayn's faithful horse during Muharram processions of his boyhood as the core inspiration in his quest to represent the form.
The muscular bodies of the horses are carefully interwoven in this composition, galloping and rampant beside one another, portraying energy and dynamism. Their necks are elegantly arched, their strong heads held high as if caught while braying. Their mouths, as seen here, resemble that of a dragon's – masculine and feral – while their hinds are distinctly feminine, making them a perfect combination of strength and grace. Husain paid particular attention to the palette using blocks of vivid and sharp colors, reminiscent of the Basholi period and one of his favorite artistic devices, to accentuate movement in the picture and lend the entire composition depth and lyricism. Titled 'Perhaps these three horses are like three cheers for my Knighthood' and dated 1989, the current lot refers to the conferment of Husain's third civilian honor from the Government of India – the Padma Vibhushan Award on the same year and which he referred to as his knighthood. He previously received the Padma Shri and the Padma Bhushan in 1955 and 1973, respectively.
Making use of a wide range of cultural inspiration as wells as personal experiences, Husain bestowed his horses with a potent and evocative presence, representing his captivation and fascination with the equine figure throughout different stages of his career.
Auction Catalogue – South Asian Art – 'Modern and Contemporary' – March 12 -16, 2020