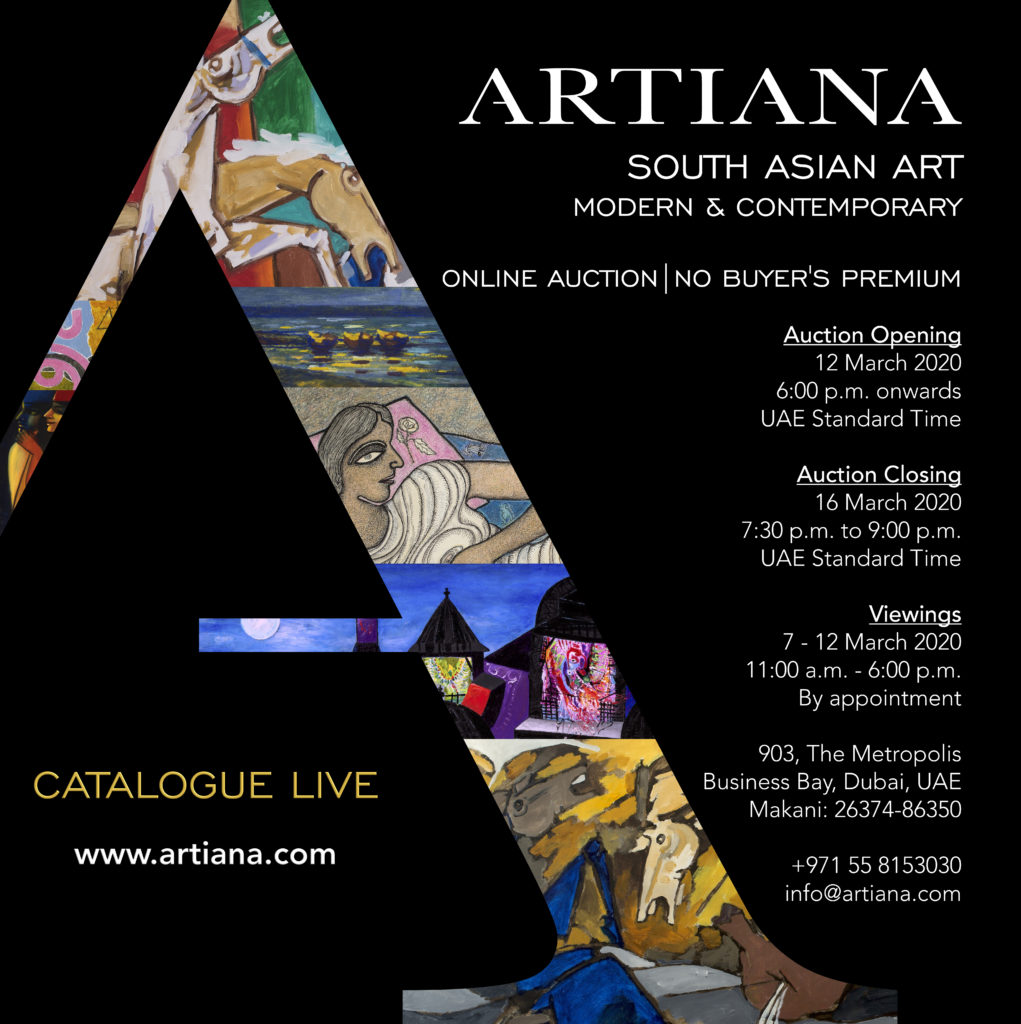 ARTIANA, UAE's first home-grown auction house for art and luxury collectibles, is offering 40 artworks from the Indian subcontinent in their South Asian Art auction on March 12 to March 16. Showcasing a broad and inclusive range of fine works in various media such as oils, acrylics, and paper works, the auction feature works by modernist masters including members of the Progressive Artist's Group (PAG) – M.F. Husain, S.H. Raza, F.N. Souza – and leading contemporary artists from the region like Paresh Maity and Jogen Chowdhury among others.
Leading the auction is M.F. Husain's 'Perhaps these three horses are like three cheers to my Knighthood' painted in 1989 with impeccable provenance, and another seminal work, 'Battle of Karbala' painted in 1990.
The collection also includes exceptional pieces from S.H. Raza providing a glimpse of the artist's more spiritual works, including 'Toi-Moi' painted in 2004 which alludes to one of Sant Tukaram's abhang and an almost monochromatic work titled 'Shanti-Bindu' painted in 2001. A rare work from F. N. Souza from 1993 also features in the auction titled 'Psychiatrist and Wife' highlighting the artist's virtuosity and commitment to his inner muse.
ARTIANA will also offer various works from prominent artist Sakti Burman, along with Ram Kumar's semi-abstracted landscapes, and Krishen Khanna's bandwallahs. A collection of Jamil Naqsh's works comprising of his signature subjects and calligraphy pieces are also part of the sale catalogue. 
The collection will be sold through an online auction at www.artiana.com from March 12 (6:00 pm) through March 16th (9:00 pm) UAE time with a No Buyer's Premium policy in an essentially 'What You Bid Is What You Pay' format. FlexiPay which allows buyers to 'Bid Now Pay Later' will also be available for eligible clients. (FlexiPay scheme details are available on their website.)
The catalogue can be viewed online, and viewings can be arranged by prior appointment. Collectors may place bids at ARTIANA's website, or through the mobile app available on both Google Play for Android and the App Store for Apple devices.
For information on how to register and bid, visit their website at www.artiana.com; For assistance and inquiries, call Artiana's Help Desk at +971 55 815 3030 or write to [email protected].

Auction Catalogue – South Asian Art – 'Modern and Contemporary' – March 12 -16, 2020