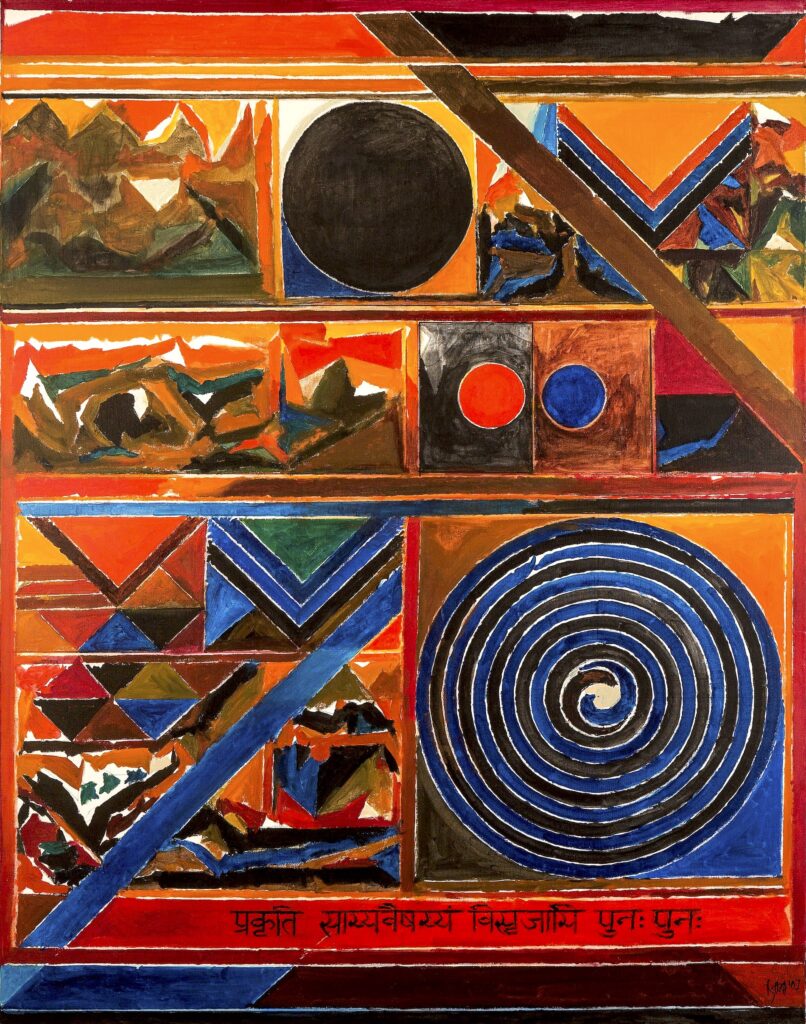 Srijan, prominent artist S.H. Raza's seminal work will be up the auction block on December 6-10, 2018 in ARTIANA's South Asian art sale. The artist, one of India's best colorists, is best-known for works that are densely geometric; inviting viewers into deep meditation and contemplation. 
The focus of SH Raza's art over the last decades has been to explore and represent the elements of nature, he used the language of symbols and saturated his canvases in geometric shapes and colors to produce powerful works that are contemplative and spiritual. Merging his background and training, he produced work both with deep Indian vision and French plastic mastery, enfolded in modernism yet with the deep resonance of the past. Raza repeatedly revisited his defining themes creating an extraordinary series of meditative and symbolic paintings.
In this piece, Srijan, which loosely translates to creation, Raza's geometric vocabulary was apparent. Deeply immersed in ancient Indian cosmological symbolism, he celebrated the process of creation in an expansive interplay of visually disparate images sharing a collective narrative. The painting is divided into sections enclosing principle forms, each with strips of colors and variation of aligned triangles, with a black bindu in the upper center of the canvas. Just below that is a pair of bindu in red and blue representing male and female energies – close but not merging into each other. The colors, like most of his works, are remarkably vibrant with a concentration of red, orange, and earthy browns.
Supporting a central idea, Raza wields his unique visual language to reinforce the gestural idioms and philosophical aesthetics of his work. The painting seems to chronicle a story with the different patterned squares coming together to form the whole construct, with each fragment with its own metaphysical significance. The serpent-like painted circles of kundalini forming an unbroken continuity are the rejuvenation and the cyclical nature of life; the Bindu which is the primordial life-force, in turn, connects to germination which is conveyed with the use of triangular yonis; while the symbols of fire, water, earth, wind and sky embody elements that sustain life. The interconnectedness of the key components of the universe simplified in Raza's canvas.
Auction Catalogue – South Asian Art 'Classical, Modern and Contemporary' – December 6-10, 2018