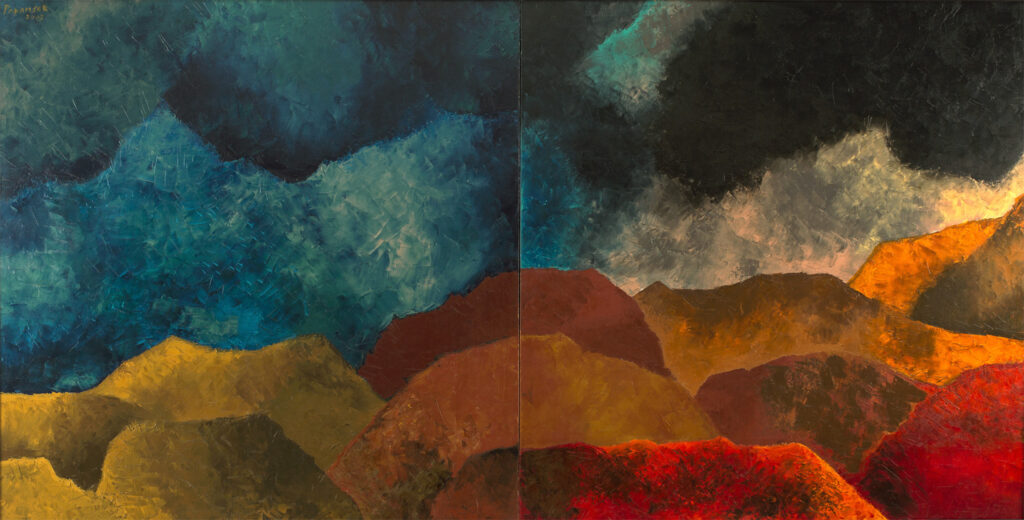 An exceptional and rare painting of Akbar Padamsee from his Mirror Image series leads our upcoming auction on 13 October 2016.
Inspired from his iconic Metascapes series, Padamsee's Mirror Images draws on the elements – earth, water, fire, air – to present a new series of reflection. In Mirror Images, the dual aspects of every event in nature are emphasized on two separate canvasses, one representing the apparent and the other, it's inverse. To Padamsee, the chasm, that separates opposites such as exhalation and inhalation, the conscious and the unconscious, is manifest even in the compliments of color, form, and space.
This series features Padamsee's well-known fascination for ideas of duality and iteration and their depiction of the picture-plane. In Mirror Images, the artist has relied on two halves to form a complete image; in each half, forms are not mirrored but echoed in the other, thus forming dual representations of similar realities. "These works bring together the artist's philosophical interests with his formal interests in color […] Dualities seem to define the career of Akbar Padamsee; an Indian who uses European forms, a colorist who paints monochrome works, who uses oil as much as he relies on ink and deploys both line and stain, a figurative painter who paints sublime landscapes, and an artist who is intuitive as he is intellectual." (Amrita Jhaveri, A Guide to 101 Modern and Contemporary Indian Artists, Mumbai, 2005, p. 60).
"Space-cognition and time-cognition depend on a compound duality, inside-outside, expansion-contraction, exhalation-inhalation, the round, and the square. We inhale, the trees exhale, we exhale, the trees inhale, a mirrored symbiosis. The expression must contain its dialectical opposite, the conscious and unconscious on the same psychic plane. I have two eyes, two retinas, but the mind compounds the two images into one […] Colours expand and contract, colors reach out of their skins to invade each other's territories, the blue goes in search of its complementary counterpart yellow or orange. The further away from each other, I place them the greater space and the voyage." (Artist quote, Mirror-Images, Exhibition Catalogue, Pundole Art Gallery, Mumbai, 1994, unpaginated).