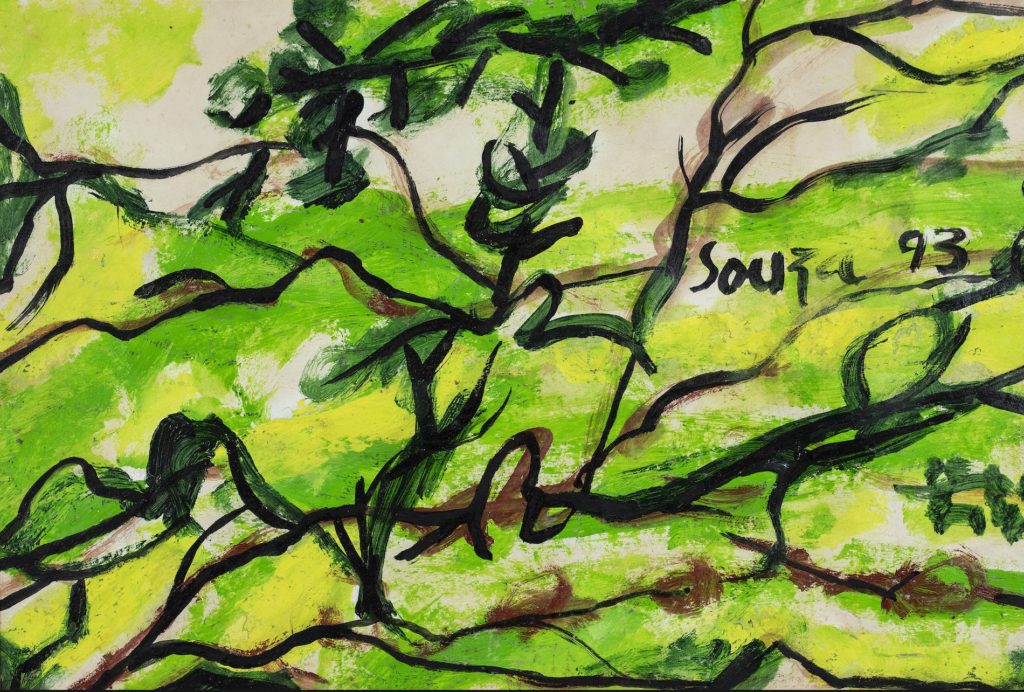 The genre of the landscape was a cornerstone of F.N. Souza's oeuvres as much as his scathing portraits and nudes. Like many of his works, he articulates his particular brand of imagery in them exhibiting an uncompromising commitment to his inner muse. 
The present lot, painted in 1993, two decades after his move from London to New York, encapsulates a particularly joyful period in the life of the artist. Souza's painting style from previous decades evolved, becoming looser, slightly abstracted, and full of bright colors. He produced works depicting nature and flowery images using colorful pigments that evoke a carefree and light atmosphere. Repeatedly emphasizing nature being the sole principle – a tenet of "Redmonism," the colors that he concocted seem almost to rival those of life itself. Here, the limits of the picture plane are disregarded; the leaves break off into a sea of green, and branches like vines appear in the foreground as a means to create perspective.
Souza's landscapes are ultimately lyrical with unrestrained enthusiasm in the application of colors. The effects of the vibrant and gestural color schemes belong to a world of memories captured in the richness of Souza's vision.
Auction Catalogue – F.N. Souza Works on Paper – The Ravi and Uma Jain Collection – 5 – 9 December 2020