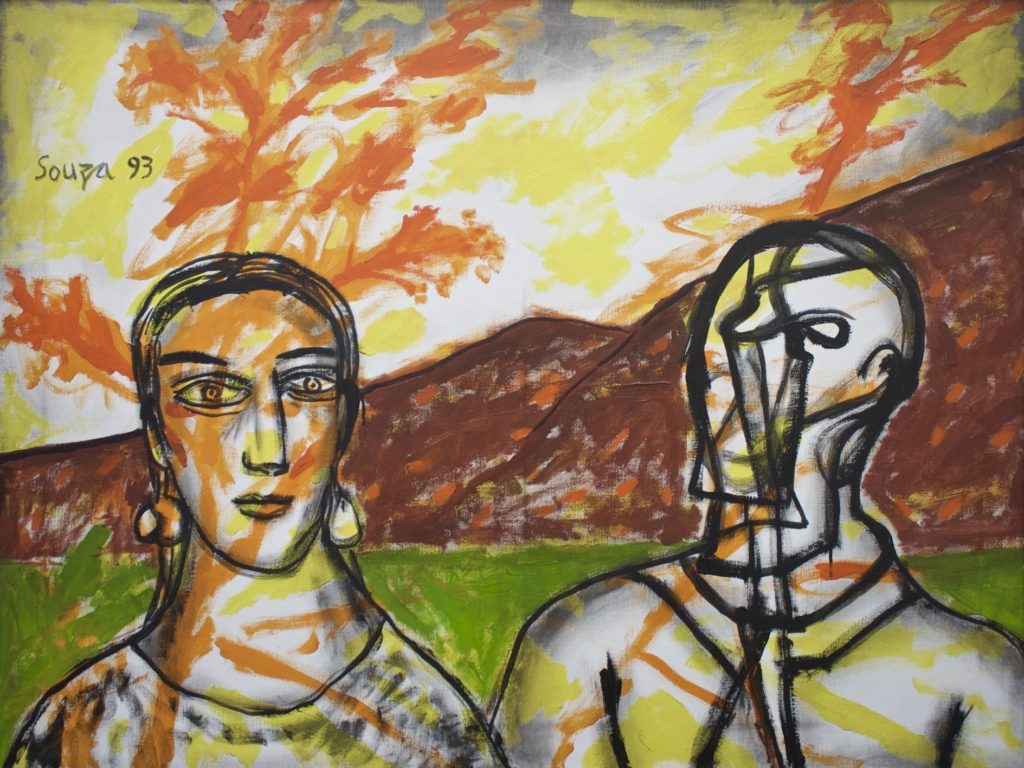 F.N.Souza's works are an amalgamation of the cerebral aspects and influences from literature, culture, science, nature, current events, inspiration from other artists he looked up to in the field, and his personal life. He incorporated almost everything – from the human form to landscapes, still-life to futuristic distortions, and in every possible manner and medium yet managed to make his paintings recognizably his. This uncompromising commitment to his inner muse propelled him towards the discovery of new thought, style, and avenues for his art. 
'Psychiatrist and Wife' is an unusual work for Souza in terms of both subject matter and the use of bold colors. Dated 1993, the period indicates Souza's later years with a looser style, natural flowing lines, and freer use of bright colors. Here, he depicted the face of the 'psychiatrist' resembling his mutant profiles yet "inside out." Using a fractured cubistic style, Souza revealed a complex and deconstructed persona reflecting on what the protagonist's line of work connotates. In stark contrast, the 'wife' is shown elegant and composed. She was depicted not as a sexual object, as Souza had previously done, but poised and dignified.
Despite the disparate style, the couple appears united due to the similar palette used – which merged the compositional elements; and the general use of a thick bold black outline, a favorite artistic device of Souza. Playing on the perspective element of the work, the artist placed the figures in the foreground, straddling the landscape while simultaneously merging into it.
Auction Catalogue – South Asian Art – 'Modern and Contemporary' – March 12 -16, 2020