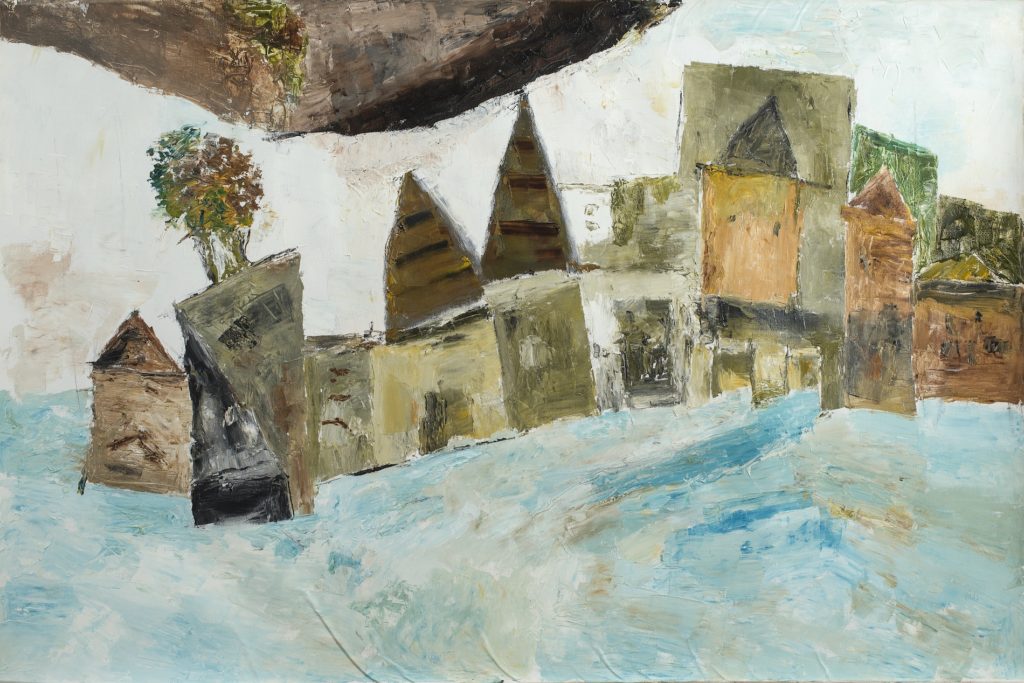 "At the end of the 1980s and the early 1990s, architectural forms insinuate their way into Ram Kumar's works. His sketches of cities once again record and reveal his spontaneous reactions to their architectural peculiarities. Familiar forms such as domes and pillars are resurrected and cityscapes slowly emerge again. Surprisingly, elements from the landscapes, such as trees, insert themselves into the labyrinth of streets, offering relief with their bright flashes of green."
Cityscapes and nature reappeared again in his works instead of the desolate and predominantly grey pieces that he made after his visit to Benaras in the 60s and the continuing years after. Bright skies and colors reclaim their spaces once again after being consigned to the outer recesses of Kumar's frame in his early works.
Here, showcasing the all too familiar visual language that Ram Kumar had painstakingly developed over the decades and retained in his paintings – the complex, multiple angles and perspectives, and the haphazard, lopsided buildings jostling for space – but without the looming greyness and the feeling of doom. The brightening of the palette and the use of lighter shades of browns and greens on the houses amply demonstrate the power of color in projecting mood and sentiment.
Text Reference:
Meera Menezes, Ram Kumar: Traversing the Landscape of the Mind, Saffronart, Mumbai, 2016, pg. 13
Auction Catalogue – South Asian Art – 'Modern and Contemporary' – March 12 -16, 2020