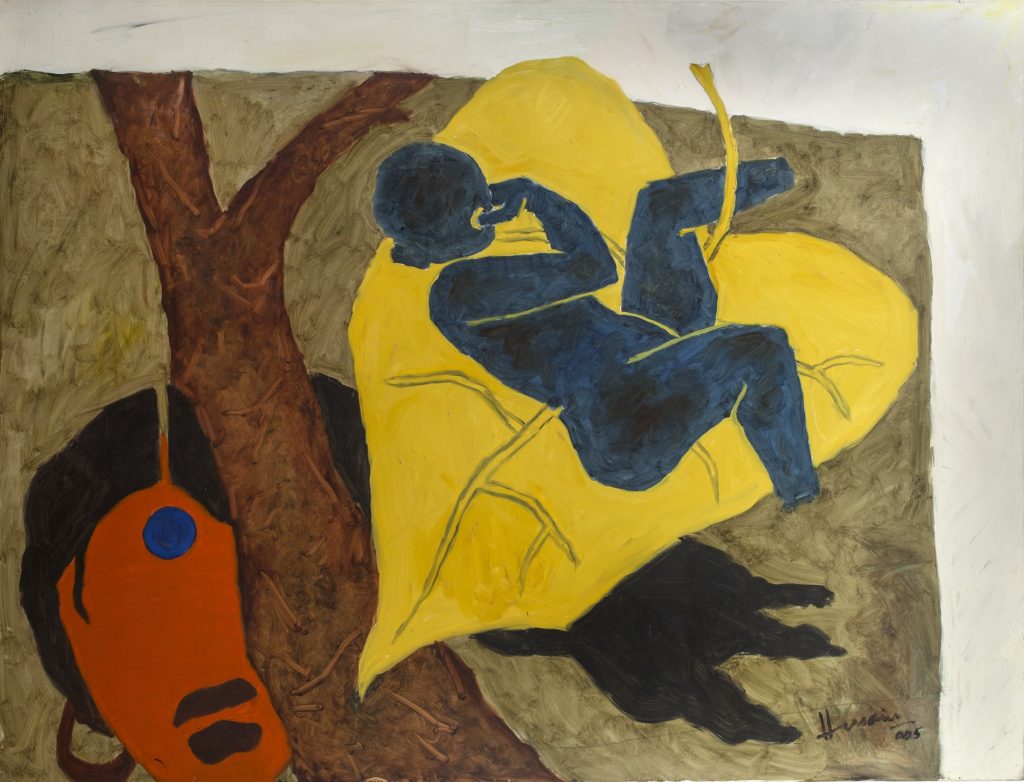 India has had a long-standing tradition of reverence for motherly figures, and the concept of the mythological mother and child has remained a constant source of fascination throughout the centuries. 'Yashoda and Lord Krishna' or 'Mother Mary with Jesus' as ideals of motherhood has been an enduring theme in art, both in India and abroad.1 For M.F. Husain who had lost his mother from an early age, the theme was a compulsion. He revisited it through the years and sought this image in every feminine form, as seen here. 
Aptly titled 'A New Born Child Held Gently By a Fallen Leaf,' the current lot features an image of baby Krishna atop a golden leaf, separated from the featureless face of a mother, seen in the background. He forgoes depiction of any features of her face, concentrating instead on a blue bindu on her forehead, signifying his lifelong search for a maternal figure. Husain explained, "As I do not recall my mother's visage, most of my female figures have no face details."
In Husain's female form, there seems to be an invisible veil between the viewer and her presence so that the simplicity of the figure is countered by the inaccessibility. This propensity can be attributed to his childhood in a Muslim household, where the feminine presence alternates between the secretive and the visible, or to his suppressed yearning for a motherly figure that left him permanently bereft. Consequently, he depicted his women vaguely, like apparitions that refuse to disappear or fully appear in his canvases.2
As is typical of Husain's works, colors were used emotively amid strong outlines and sharp angular lines, casting into motion his pictorial spaces. The brilliant colors with its symbolic and expressive values combined with his distinct human forms transform the narrative on the painting surface into an intimate experience of poetry.
Text Reference:
1 Aishwarya Kirit, The 'Mother and Child' in Modern Indian Art, Sahapedia.org, July 27, 2019
2 Yashodhara Dalmia, M.F. Husain: A Tribute, Vadehra Art Gallery, New Delhi, 2012, pg. 15
Auction Catalogue – South Asian Art – 'Modern and Contemporary' – March 12 -16, 2020